8 Steps to Become A Successful Financial Dominatrix
Financial domination is becoming a more and more popular kink on the internet. New payment methods, the ready availability of webcams, and more are making it easier to have financial fun on the internet. For women who are looking to become financial dominatrixes it can be a bit overwhelming. You might not know exactly where to start.
To help you get started in the world of financial domination, we are going to provide you with a quick guide to getting started.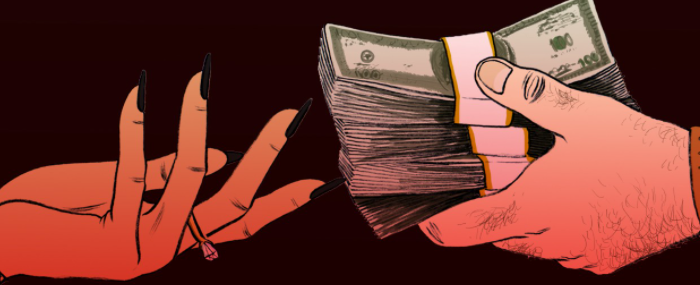 #1 Sign Up For The Right Site
Signing up for the right findom websites to become a financial dominatrix is key. You can sign up to a wide variety of sites from webcam sites, chat room sites, to kink dating sites. All of these will help to get you business. Just make sure that you aren't breaking any terms of service for the websites you choose.
The sites you choose to list yourself or interact on should have enough users that it is worth your time to put effort into the site. Create an account and explore a site before putting in the effort to create a profile and spend time there. You can also read user reviews of the sites to determine what the site is like both from the dominatrix point of view and the submissive point of view.
Note that you will want to consider sites like kink dating sites if you are interested in meeting in person. Many webcam sites have rules against meeting your clients or subs in person.
Remember that you are not limited to one online location either. A lot of dominatrixes end up with accounts at a variety of locations. Especially when it comes to accounts on webcam sites, chat sites, and dating sites. By covering all three you are maximizing your chances of finding good pay pigs.
#2 Create A Good Profile
A lot of your business comes from people being able to know who you are when they go to find you on any site that you sign up for. Make sure that you have a quality profile created on any site that you are going to sign up to be a financial dominatrix on.
You can copy and paste parts of your profile to each site but make sure that if the site is unique that you tailor it to the site you are on.
A few good pictures will make your profile even better. If you can have a friend take the pictures with the nice camera they will go a lot further. For those that do not want their face shown, you can often get away with showing part of a body. You might notice less clients though.
#3 Decide What You Want
Either before you are setting up your profile or while you are setting it up you will want to decide what you want from a financial dominatrix relationship. What you're interested in should be listed in your profile so that subs know whether or not you are a match.
When listing your interests in your profile do it in a classy way that attracts people to the profile rather than just feeling like a list of naughty activities. This will help make your profile alluring to the most possible matches and those who are more serious about financial domination.
Make sure to decide the other aspects of what you want such as how much you want to be paid, what your limits are going to be, and what kind of submissives you are interested in. Think about all of these desires and ensure that what you ask for is reasonable. Very few people are going to be able to spend hundreds of dollars in one sitting, for example.
#4 Setup Accounts on Popular Pay Sites
Submissives who are interested in financial domination will want to use a number of pay sites depending on their income source, their location, etc. Make sure that you sign up for the major pay sites in order to be able to receive money from pay pigs.
Here are some of the more popular pay sites that financial dominatrixes use:
- Google Pay
- Venmo
- Cash App
- Paypal
It is important to set these up ahead of time as some payment platforms require that you verify your identity and/or your financial information to be able to use them.
#5 Have A Good Webcam
Using a webcam is optional for a financial dominatrix but in 21st century it is expected that most people will have a webcam in order to provide the best domination experience possible. However, that doesn't mean that you need to get naked on camera to have fun. A lot of financial dominatrixes give pleasure while fully clothed.
If you are going to go the route of having a webcam, make sure that you spend a little money to invest in a good one. At minimum you want to have a 1080P webcam but if you can find a 4K that you can afford, that is even better.
#6 Do Some Research
Before you begin in the world of financial domination it helps to spend some time doing research. Your research will help you to find the right terms, ideas for activities to do with your sub, etc. Knowing these ahead of time will help you to communicate with your sub but also help you to come off as prepared to do your job as a femdom.
It is okay to admit you are new but having some knowledge will make the scene flow better and make it more enjoyable.
During your research make sure to take a look at what some of the most successful dominatrixes do to find submissives. You can do a lot of this by simply going to their sites or profiles and looking around. Some are quite open about how they have found success and have tips on their blogs/sites.
#7 Build an Online Presence
The most successful financial dominatrixes spend the time treating their activities like a business, whether they do it as their only job or not. In a modern world where everything revolves around the internet, that means building up an internet presence.
For financial dominatrixes, the best place to start building your online presence is on social media. Instagram and Twitter are two popular options. You can also use YouTube and TikTok but these platforms have stricter rules about what you can post on them when it comes to NSFW content.
Regularly engage your fans and add new content on the various platforms you use and people will be interested in seeing what you have to offer. It may take some time for your web presence to start really becoming popular but if you keep up the work, most dominatrixes find that it really helps their business.
#8 Practice
One of the last things that is important to keep in mind is that everything comes with practice. As you start out in the world of findom you will make some mistakes and that is okay. The point is that you learn from your mistakes and you grow into a better dominatrix.
Spend some time working in chat rooms and talking with those who are interested in femdom. You don't even have to get specific experience in financial domination in order to be better prepared. General domination experience can help to build confidence and a knowledge base.
You can think about it this way; every good professional practices their profession regularly. Financial domination is no different, especially if you are interested in making a living doing it.
The world of financial domination is incredibly large. Any dominatrix starting out has a great opportunity at their hands. Submissives are always looking for what you have to offer. The main thing is being able to find those submissives. Use this guide to help you find them.